Step into Luxury: Velvet Shoes are Taking Over!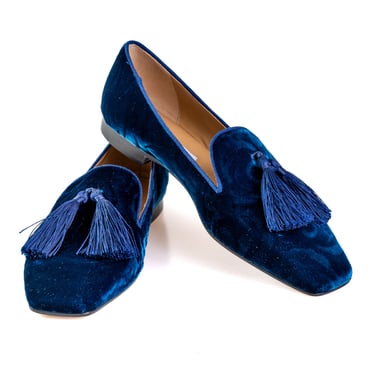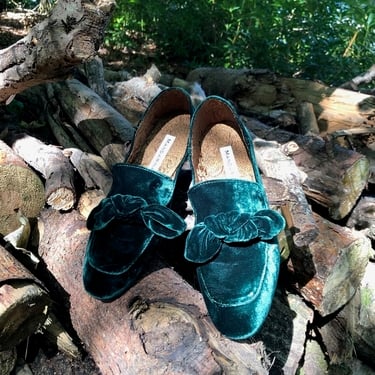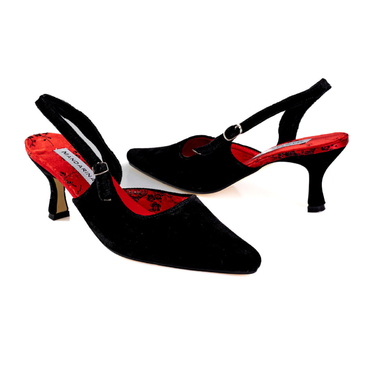 There's something about a pair of velvet shoes that just shouts luxury. The lush, opulent feel of velvet shoes has a charm that beckons both the fashion-forward and those who just appreciate the finer things in life.
With a long historical association between velvet and royalty, velvet was always considered an incredibly luxurious and expensive fabric, meaning wearing velvet shoes was a symbol of status and wealth in times gone by.

One thing we love about velvet is the stunning array of colours and textures and how velvet shoes are usually adorned with embellishments like beads or tassels, adding an extra layer of elegance and style.
Our velvet shoe collection has recently seen some gorgeous new arrivals and here are a few of our favourites:

Introducing the latest addition to your shoe wardrobe's wish list! These velvet shoes are designed to be your perfect companions for dinners out and dressing up on any occasion.
Crafted with the utmost care and attention to detail, these stunning velvet loafers strike the perfect balance between relaxed comfort and elegant style.

The top-stitched upper, squared toe and bow trim detail are guaranteed to add sophistication to your ensemble. Handmade from sumptuous bottle green velvet and lined with a beautiful gold brocade. These velvet beauties are just as luxurious on the inside as on the outside, making you feel like royalty with every step!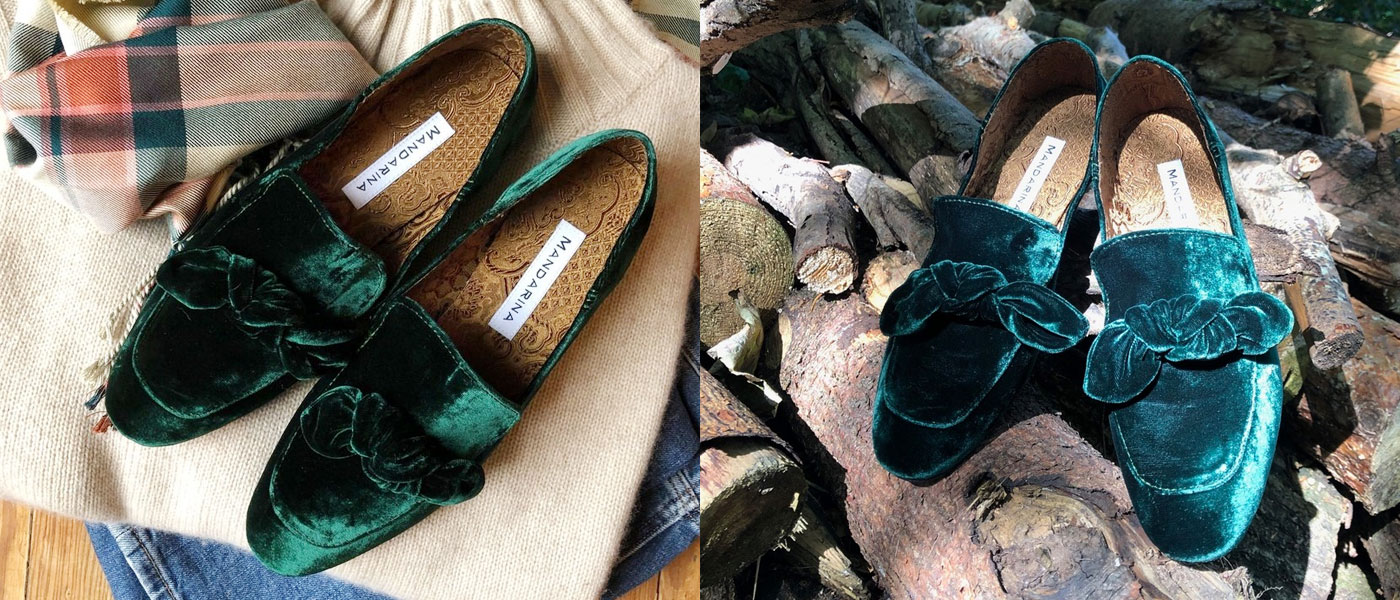 We say: "Don't wait to make a statement with this new style and stunning colour on your feet – they're bound to be a hit."

Italian style is synonymous with sophistication and timeless beauty, and these cut velvet loafers with tassel trim embody that essence to perfection. Crafted with precision and care in our own factory near Arezzo, Italy, these shoes are a testament to the artistry of Italian craftsmanship. Be warned, they are a limited edition design and won't be around for long!
We love the deep, inky blue of these flat velvet shoes. Effortlessly pair them with black or navy trousers and a simple jumper for a classic ensemble or embrace a chic, dressed-down style by wearing them with jeans.
These versatile loafers are designed for year-round wear, and like all of our Mandarina Shoes, they promise both comfort and style.
The velvet textile upper feels super, and these loafers also feature a real leather lining, a modest 1cm flat heel, and a durable leather sole.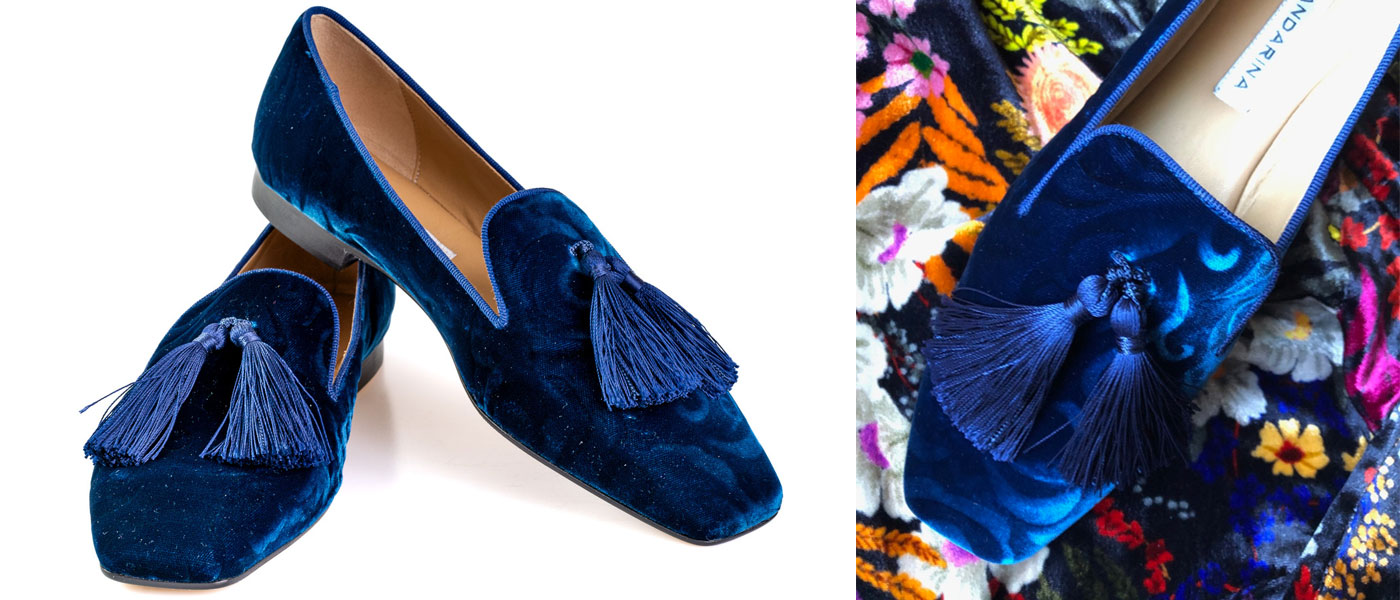 We say: "Elevate your wardrobe with the allure of Italian elegance by adding these luxurious velvet loafers to your shoe collection."
These deep claret velvet court shoes are a testament to the everlasting allure of velvet. Their plush texture is both romantic and luxurious. Whether you've treated yourself for a formal affair like a wedding or party or simply slipping them on with your favourite jeans for a day out with the girls, this is a gorgous pair of velvet shoes that are hard to to resist. Let's not forget the beautiful brocade lining that adds an extra special touch of luxe.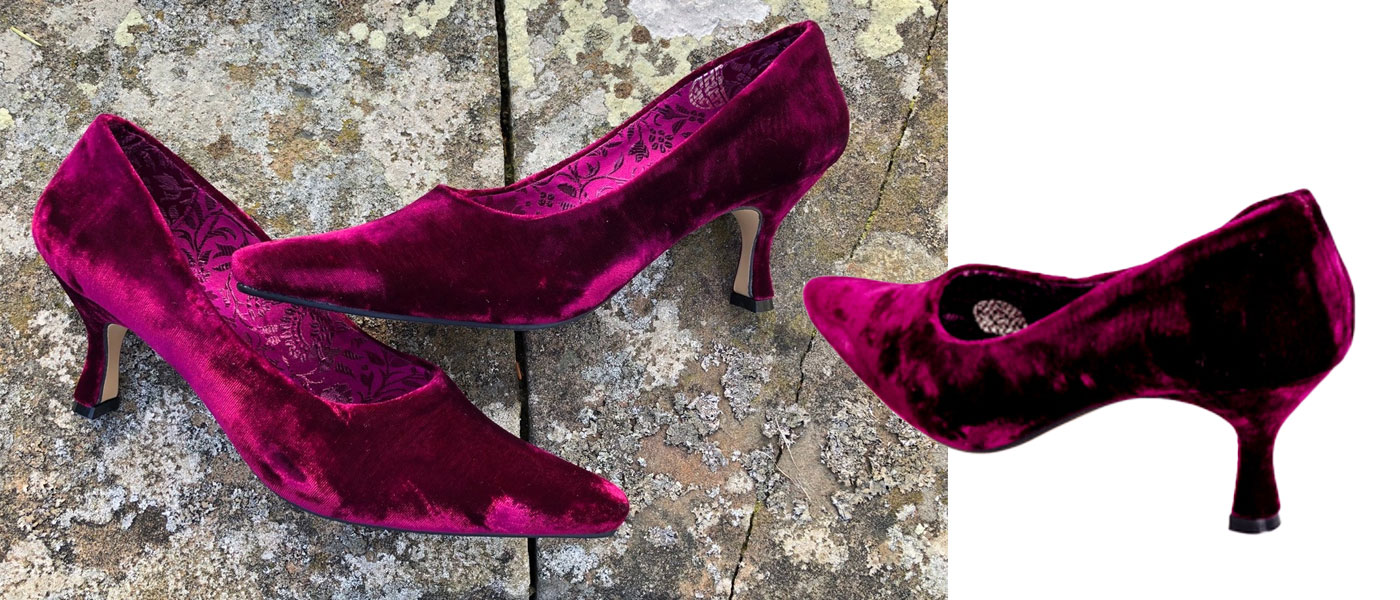 We say "Embrace the timeless elegance of velvet and treat your feet with these deep claret velvet court shoes."
Our iconic slingbacks in black velvet, complete with our signature Mandarina lining in exquisite silk brocade. Opulent and effortlessly stylish, dressing up for dinner has never been simpler! Slip into a little black dress and some Mandarina velvet shoes, and you're ready to go.
These black velvet slingbacks have an elegant pointed toe and a comfortable 7cm heel that's a breeze to walk in. Trust us!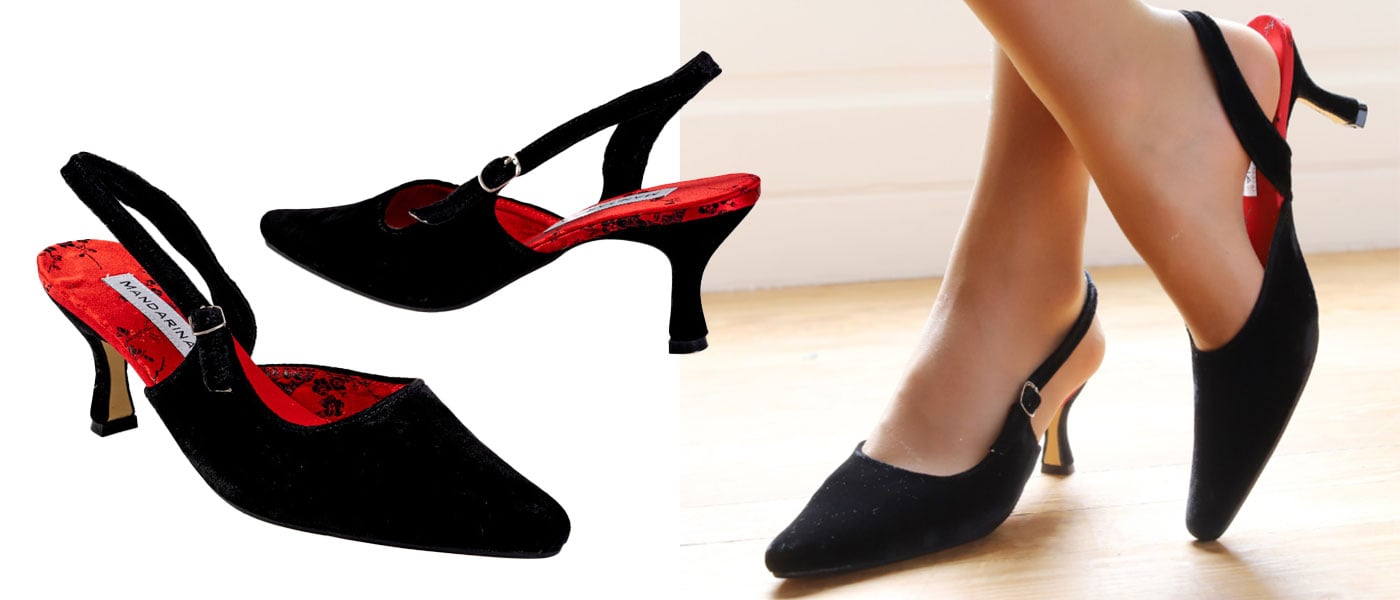 We say: "A timeless velvet shoe that balances sensuality with wearability."

What a pop of colour! Prepare to be wowed by the Mandarina kitten heel slingback in striking fuchsia pink velvet.

Elegant and playful in equal measure, this popular kitten heel style has earned a devoted following for its exceptional versatility and unwavering comfort. What sets this pair apart is, of course, their electrifying pink colour. Paired with black or navy, the fuchsia velvet creates a striking contrast that demands being seen. However, the magic of fuchsia lies in its compatibility with an array of other shades, offering endless possibilities for creative and stylish ensembles.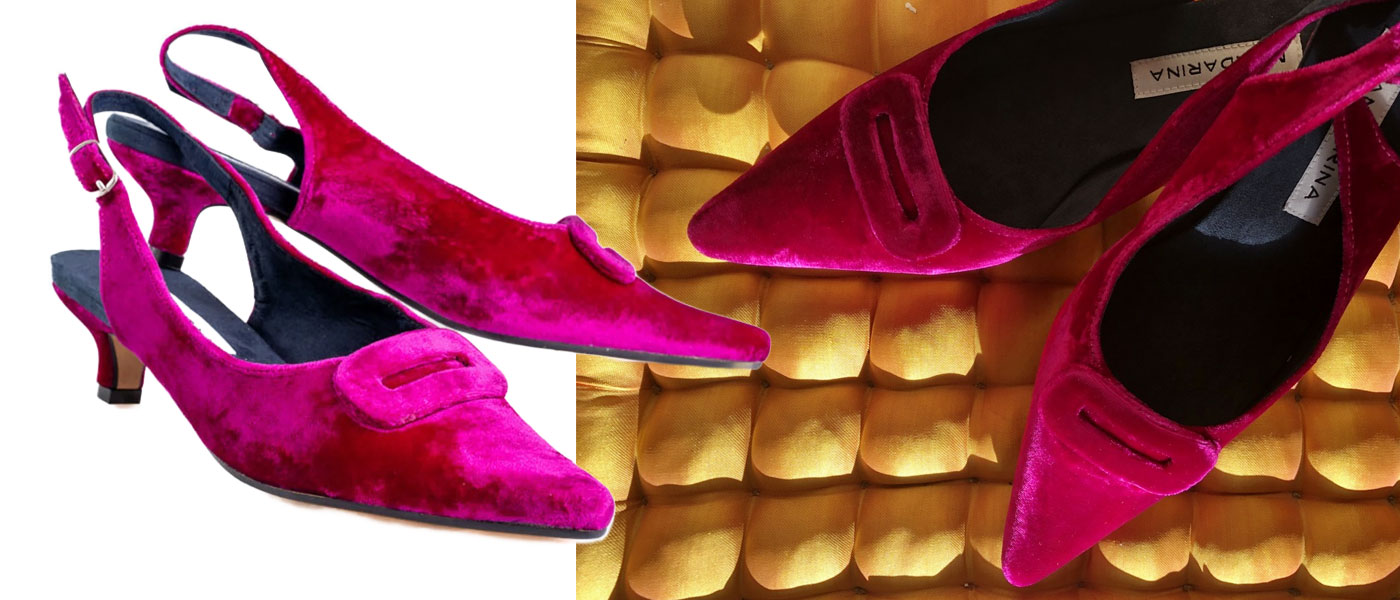 We say "Simply a footwear masterpiece that effortlessly commands attention!"

And don't forget that Mandarina only sells original and unique footwear but without the designer price tag. You won't find any of our fabulous velvet shoes anywhere else. We deliver worldwide and are always happy to answer any queries you have about the right size or style for you. Please do get in touch, we'd love to hear from you.

Back to Blog