Pixie Boots: A Fashion Icon with a Magical Twist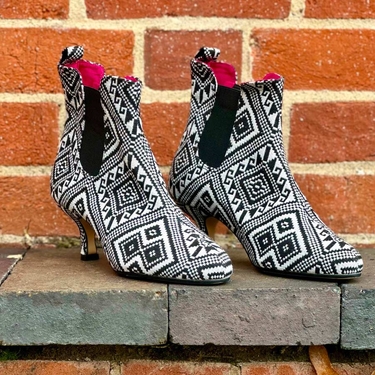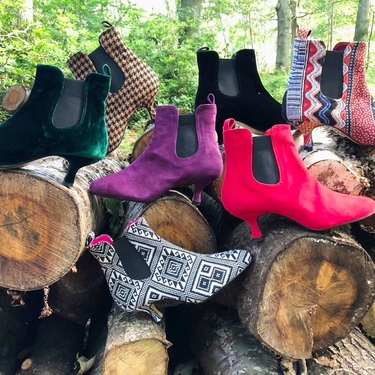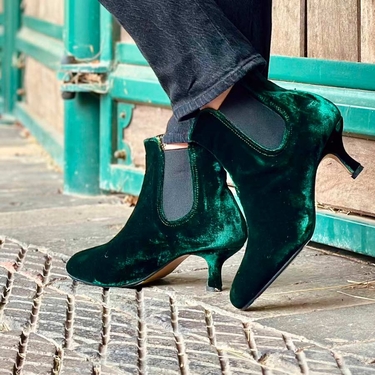 Pixie boots have always been a slightly whimsical footwear choice that has enchanted fashion enthusiasts for decades, bringing a hint of unconventional charm that keeps the Pixie Boot design intriguing and unique.
Pixie boots have their roots in the 1960s, a decade that brought us many iconic fashion trends. Their distinct pointed toes and snug, ankle-hugging design made them a beloved staple, and the Pixie boot is definitely somewhat of a fashion chameleon, equally at home as casual, everyday wear as they are to make a statement. Pixie Boots have been seen throughout the ages in popular culture, celebrated in music and have become somewhat a symbol of individuality.
Always individual and always bringing you the best quality footwear, Mandarina Shoes are proud to introduce our new range of Pixie boots for AW23. We have updated the design with new elasticated sides, and we've given them a more rounded toe shape, bringing a contemporary feel. The length has also had a tweak to work even better when tucked under trousers, as well as with skirts and dresses. Take a look at the full collection of pixie ankle boots here, or read on to meet the new arrivals.

Our Tan and Black Houndstooth Pixie Boot epitomises European sophistication. They are the ultimate choice for those who appreciate the finer things in life. This classic Houndstooth pattern pairs beautifully with black or camel coats, adding a gorgeous touch to your Autumn / Winter ensemble. Pair them with jeans and a cozy jumper for a casual yet chic daytime look, and watch them effortlessly elevate your evening attire.
Crafted with a wool mix textile upper and a 6cm kitten heel, these Pixie boots offer a comfortable fit. The elasticated sides and pull-on heel tab make slipping into these boots a breeze. The microsuede lining is soft and snug, while the hardwearing leather-look sole adds to their overall durability. Plus, they're weather-resistant and ready to conquer the British Winter! (Or wherever you are in the world!)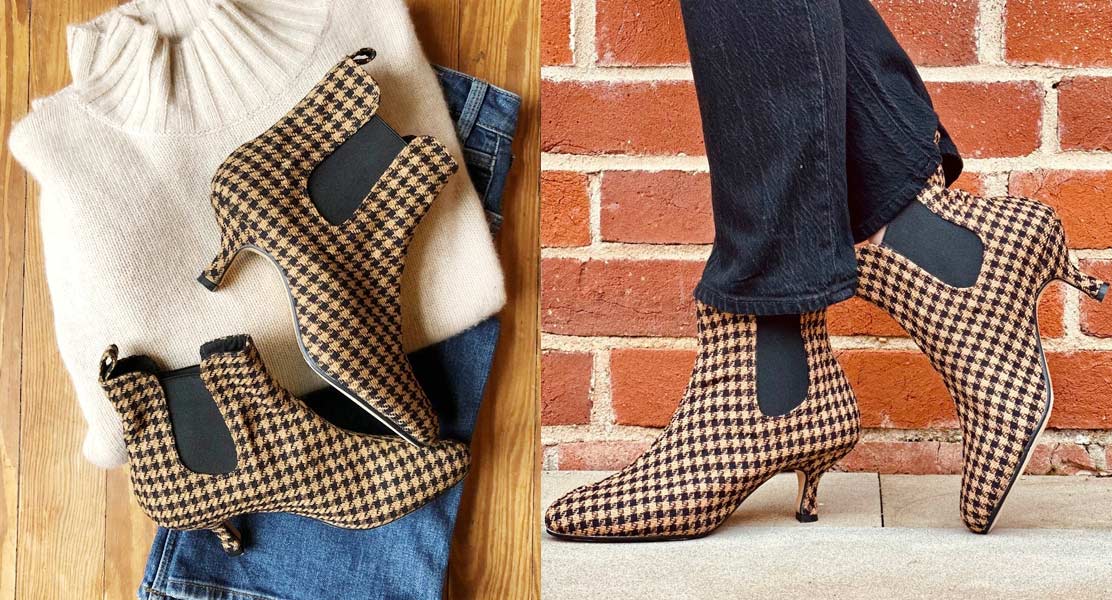 A touch of red is the secret weapon to any wardrobe, and our Scarlet Red Suede Pixie Boots with smart black contrasting elastic panels are a sizzling sensation. Get ready to make a statement and WOW the world!
These boots are as flexible as they are fashionable. Whether it's a day at the office or a night on the town, they will transition from casual to chic. Pair them with your favourite jeans and a cosy jumper, or use them to add a pop of colour to your evening ensemble.
Crafted with a 6cm kitten heel and featuring real suede uppers, these boots not only look amazing but feel fantastic. The pretty brocade signature Mandarina lining adds a touch of luxury, while the hardwearing leather-look sole ensures they stand up to whatever weather the day throws at them.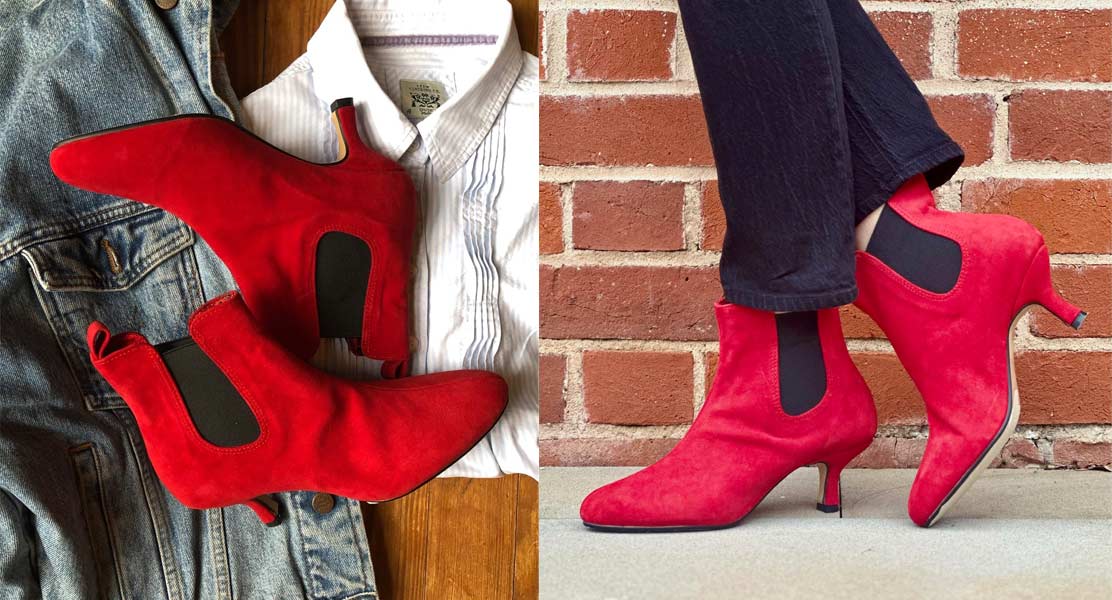 With several patterned and plain options in our new Pixie boot collection, it's easy to find the perfect pair. But if you're looking to make a bold statement that's still entirely wearable and easy to style, we've got just the boots for you.
Our favourite Aztec abstract print is all about having fun with fashion. These patterned pixie boots are a bold fashion statement that promises to turn heads. Are YOU ready to make an entrance?
These boots don't just look good; they feel amazing too. With a comfortable 6cm kitten heel, elasticated sides for easy on and off, a soft microsuede lining, and a hardwearing leather-look sole, you'll never want to take them off!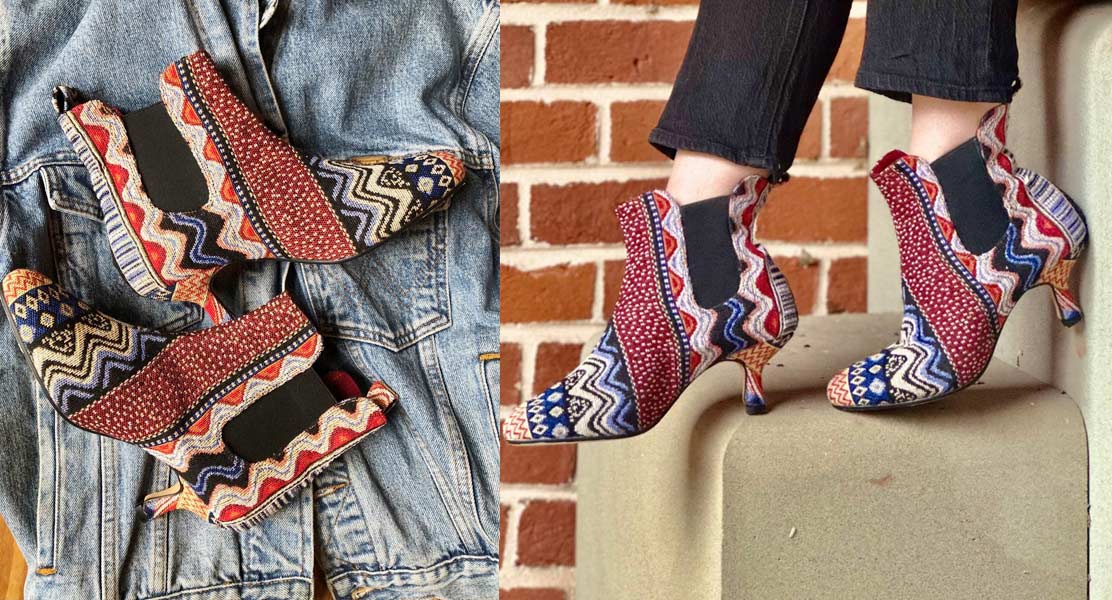 What makes this pair truly special is the sumptuous dark green velvet fabric. These boots are not just elegant; they're downright chic and guarantee to add a touch of luxury to every step you take. Velvet shoes are certainly having a moment, and by combining this bright green colour, luxurious velvet, and our updated pixie boot style, do we have here the perfect pair of ankle boots for the new season?!
With an average fit and true-to-size sizing, you can trust that these green velvet pixie boots will fit like a dream. If you're in between sizes, we recommend sizing up for the perfect fit.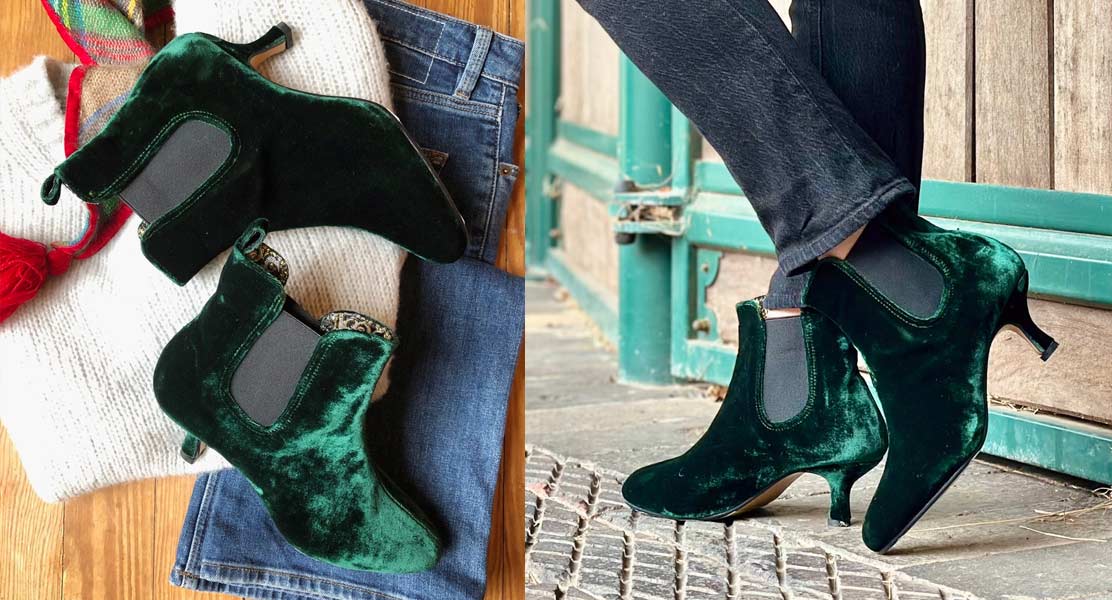 Our patterned black and white Pixie Boots are all about having fun with fashion. These boots are a bold fashion statement that promises to add sure fire pizzazz to any outfit.
Our Pixie Boots are the definition of versatility. From day to night, and weekends to weekdays, they're the go-to pair for every occasion. Whether you're pairing them with jeans and a snuggly jumper or dressing them up for a smart evening look, they easily adapt to your style.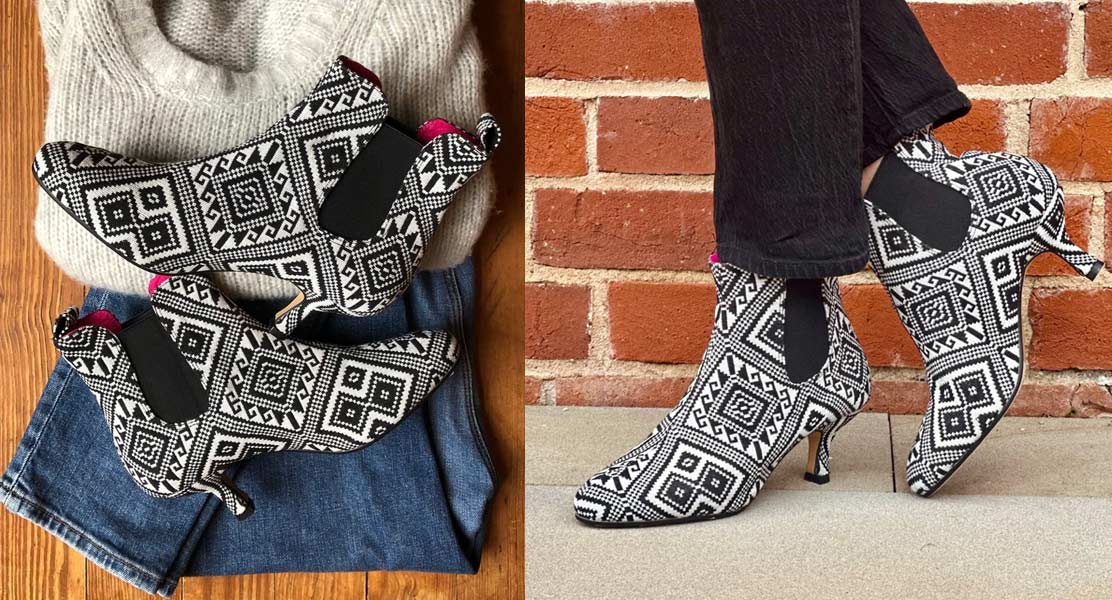 Take a look at the full Mandarina Pixie Ankle Boot collection here, and don't forget all of our beautiful and unusual shoes and boots are only sold online and exclusively by us. You won't find them anywhere in the shops.
Mandarina only offers the finest quality footwear, and our Pixie Boots are no exception. Handcrafted in limited edition batches, these boots are a true embodiment of exclusivity and elegance. Don't miss your chance to own a pair of Mandarina's fantastic new and improved Pixie Boots!!!
Back to Blog