Navigating Navy: The Timeless Allure of Navy Blue Footwear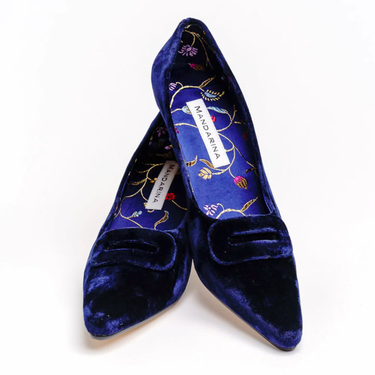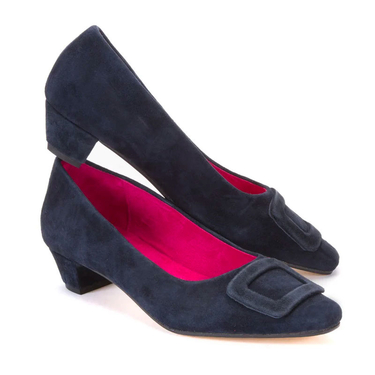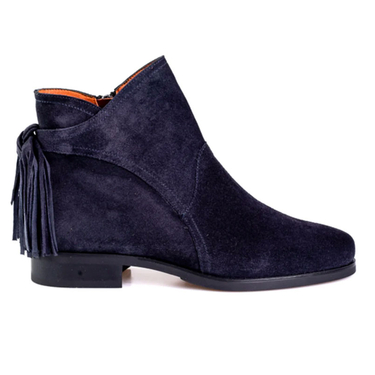 In the world of luxury fashion, navy blue footwear is a wardrobe staple that transcends trends and stands firm as the ultimate solution to ANY dressing dilemma!
More than just a colour, navy manages to embody the essence of timeless elegance and versatility. From weekend escapes to formal soirées, from the city to the countryside, navy blue footwear navigates every landscape.
Here at Mandarina, we like to think that navy shoes (or boots) beckon to those with an eye for understated sophistication. (Yes, we're looking at you!) It's the kind of colour that quietly commands attention, making a statement without the need for a fanfare. A pair of navy blue shoes is always the epitome of excellent taste.
With a remarkable ability to blend with any outfit and effortlessly transition from casual to formal, adapting to your style, no matter the occasion, navy blue footwear is more than a fashion choice; it's a wardrobe essential.

2023 Autumn Winter Navy Collection

At Mandarina, our shoes reflect our values. Luxury is not just about appearance; it's about craftsmanship. We are incredibly proud of our beautiful and unique navy shoe and boot collection. All are made especially for us, using the highest quality materials by highly skilled Artisan shoe makers from the UK and Europe.
Here are a few of our absolute favourites for this season. Or take a look at our full navy footwear collection here.
Navy Venetia Kitten Heels

We're thrilled to unveil a brand new gem, the Venetia Kitten Heels. Sumptuous, beautiful, and available in Midnight Blue or Classic Black velvet... these are the heels you've been waiting for!

Indulge in the richness of the Midnight Blue velvet, you're guaranteed to turn heads and steal the spotlight. You can also glam up the look by adding some of our beautiful diamanté, or beaded shoe clips.

Shop Navy Venetia Kitten Heels >
Annabelle Classic Navy Court Shoes
How would you personify a classic court shoe? Classy, simple, comfortable, elegant, and timeless of course. Well, you get all of this with the Annabelle court shoe, another new arrival for the Autumn/ Winter 2023 season. With a soft navy suede upper, colourful Mandarina lining in soft microsuede, the perfect 3cm mid heel, and flattering front buckle detail, we promise these navy shoes will become your new best friend.

Versailles Velvet Navy Court Shoes
Mandarina's Navy Velvet Court shoes are the epitome of versatility, elegance, and evening chic. Nothing says timeless opulence quite like a pair of velvet shoes and they will make the perfect complement to your favourite frock or a stylish pairing under wide trousers, whether you're attending a glamorous soirée or an intimate gathering.
Crafted with meticulous attention to detail, these velvet court shoes feature our signature exotic silk brocade lining, adding an extra layer of luxury. The 7cm heel provides an elegant lift, and the pointed toe adds a touch of refinement to your ensemble. The high quality leather-look sole ensures both style and durability. Velvet shoes have never been so luxurious yet affordable.

Versailles Velvet Navy Court Shoes >
Trinny Navy Suede Ankle Boots

The Trinny blue suede ankle boots have been a best seller and our own Design Director's top choice. Here's what Caroline (pictured) says:

"Finding the right everyday casual boot which wears well but looks fun and fashionable is not always easy. We think these are a great alternative to the classic Chelsea boot - with a zipper fastening instead of elastic sides, and a cute tassel detail at the heel."
Made from sturdy navy suede, with a non-slip sole and rounded toe shape, these boots are not only incredibly comfortable to wear, but they are durable in the British weather. Wear with skirts, trousers, dresses, playsuits; the perfect all-rounder.

Shop Trinny blue suede ankle boots >
Marino Navy Suede Sneakers
These fabulous navy blue suede sneakers are crafted in Spain from soft, luxurious suede and feature trendy rope soles. A delightful blend of sneaker and espadrille, resulting in footwear that's as fun as it is fashionable.

Due to the bio-degradable nature of traditional coir, these sneakers are an eco-conscious choice. A commitment to sustainable living without compromising on style.

Shop Marino Navy Blue Sneakers >
Aztec Patterned Flat Shoes

Something a little bit different... These comfortable blue patterned flats have earned their way to be being the darlings of the fashion press, and it's not hard to see why. With their vibrant Aztec pattern, they are the perfect way to add a dash of panache to any plain outfit or instantly dress up a pair of jeans.

Mandarina's commitment to craftsmanship and sourcing the finest materials led us to South America, where our Brand Director, Caroline handpicked the multi-patterned textile upper for these unique flats. This textile is not only beautiful but also road-tested for durability, guaranteeing a standout look that's as comfortable as it is stylish. You'll also find a soft microsuede lining to cushion your feet with every stylish step.
Shop Blue Aztec Patterned Flats >

French Navy Sling Back Kitten Heels

Now considered somewhat of a cult classic, our French Navy Sling Back Kitten Heels are deemed forever in style and are a fashion editor favourite after being featured in the Daily Telegraph.

These elegant navy kitten heel slingbacks are made from the best quality woven cloth, with a snappy buckle detail and are lined with sumptuous silk brocade, making them extra special to look at, on or off your feet.

Shop Navy Sling Back Kitten Heels >
View our full collection of navy blue footwear here, and don't forget, Mandarina only sell original, unique shoes at affordable prices.
Back to Blog