Silk and Satin Wedding Shoes - Combining comfort and style for the big day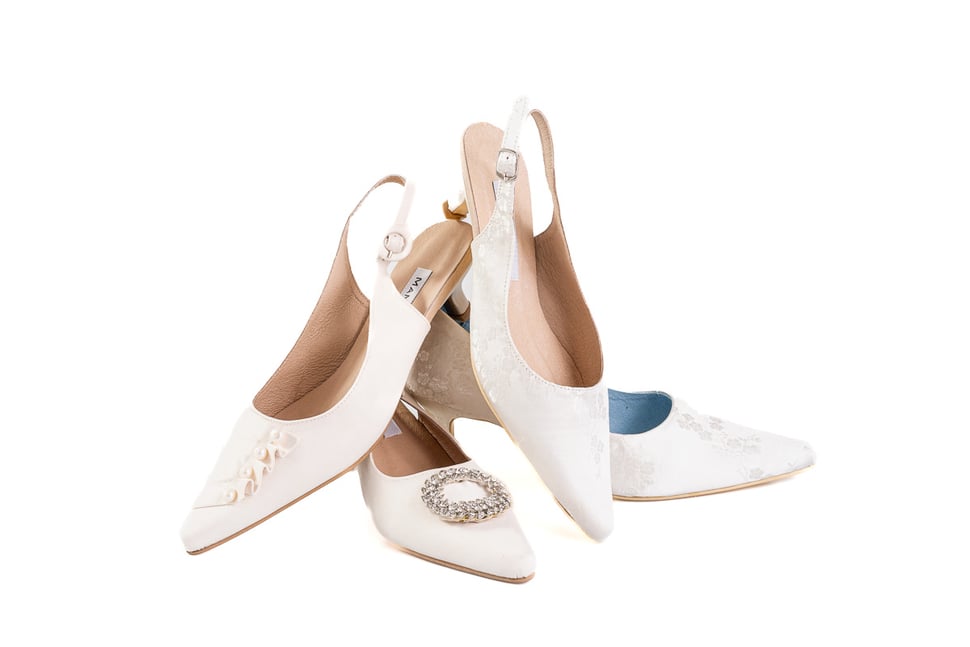 Our beautiful and very importantly, comfortable silk and satin wedding shoe choices are here for all brides to find their perfect wedding shoe.

If not THE most important thing is comfort, as shoes can ruin a day. We have been selling wedding shoes for nearly 20 years and understand what a bride really needs. Our designs are well thought through in detail and provide luxurious options for brides on their special day.

Silk is a soft and breathable material that can help prevent blisters and other foot discomforts, allowing the bride to fully enjoy her wedding day without any distractions. Additionally, silk or satin shoes add an elegant touch to any wedding dress and can be a beautiful keepsake to cherish for years to come. We have even got real pearls as a trim on our kitten heels or sparkling clips to shimmer even more on the day!

It is true that the tradition of wearing white wedding shoes has expanded to include colourful options as well. Many brides now opt for shoes in our colourful fabrics, or match their wedding day colour theme with their shoes instead of traditional white or cream. This new trend has opened up many fun and creative footwear options for brides on their special day. We have always tried to provide easy choices for brides and the other women in the bridal parties! We have had many happy results providing shoes for the bride, mother of the bride, groom's mother, the bridesmaids AND the guests!

Yes, you know us by now, Mandarina Shoes not just wedding shoes but shoes for all occasions.
Here are some of our very favourite silk and satin wedding shoes from our boutique collection of luxury wedding shoes. You can see the full collection here.
Handmade from beautiful paisley-patterned silver-white silk brocade, these wedding court shoes also feature a subtle 'something blue' lining. You'll feel amazing on your wedding day and we guarantee these are comfy wedding shoes that will let you enjoy your day and dance all night long. These silver and white silk wedding shoes are also available as sling backs.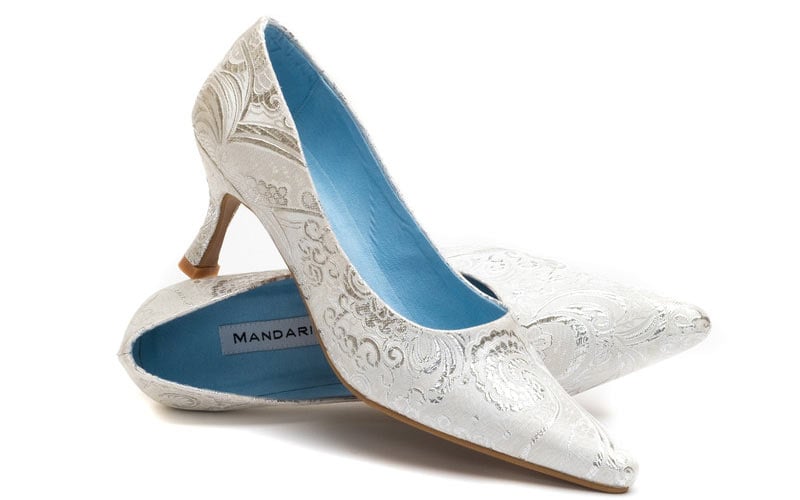 Feel confident and comfortable on the big day in these simple, yet stunning white silk wedding shoes. These really are the prettiest wedding shoes on the market for under £200. Exquisitely handmade from beautiful white brocade patterned with a delicate cherry blossom design, and lined in soft kid leather.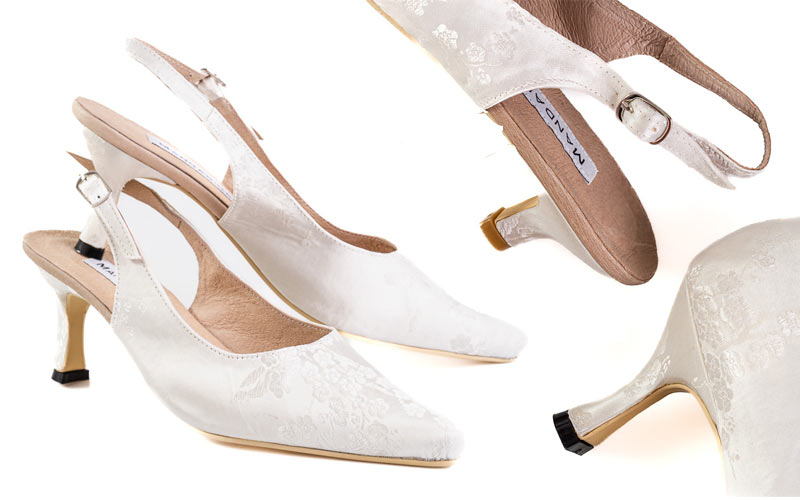 Incredibly comfy and exquisitely pretty wedding shoes with a kitten heel. The off-white duchesse satin is gorgeous, the kid leather lining is soft, and the diamante button trim gives them just the right amount of glamour and sparkle.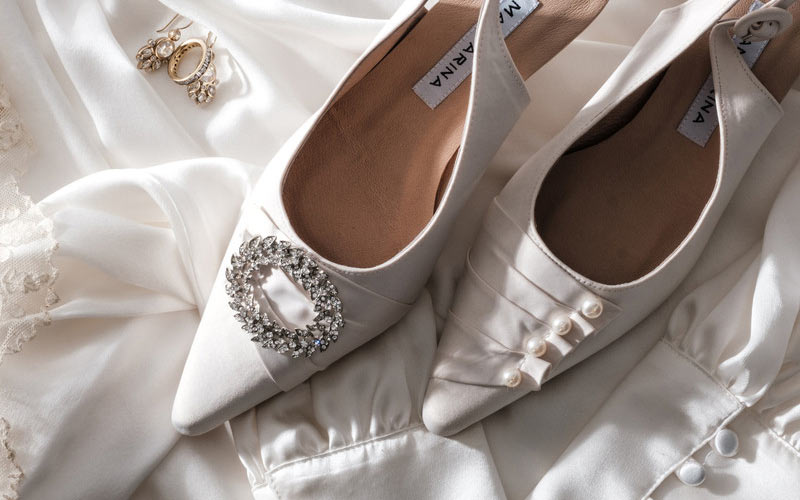 Beautiful wedding shoes with pearls and a kitten heel. You'll exude effortless elegance on your wedding day and we guarantee that these are some of the most comfortable bridal shoes you will ever find! Real fresh water pearls give off pretty lustre and the small kitten heel makes these wedding shoes really easy to wear.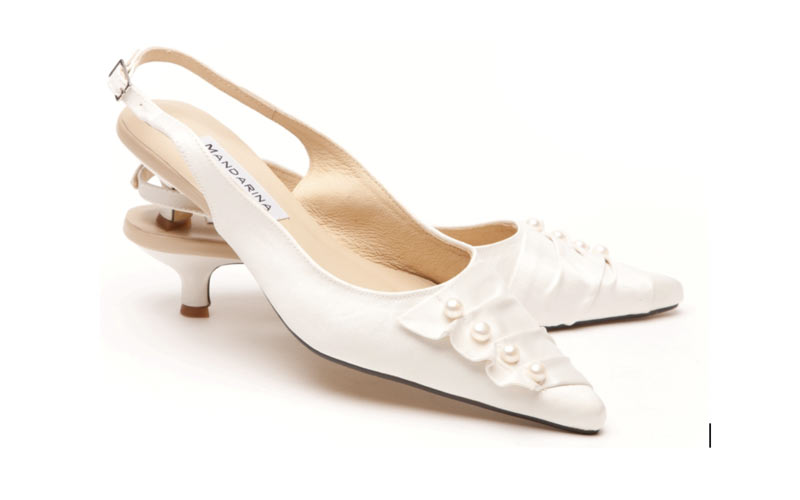 A beautiful style for the perfect wedding, these ivory slingbacks combine romantic glamour with style and sophistication. Trimmed with a delicate and pretty oval diamante buckle set on a ruched satin band, we know these high quality wedding shoes offer amazing value in a timeless style.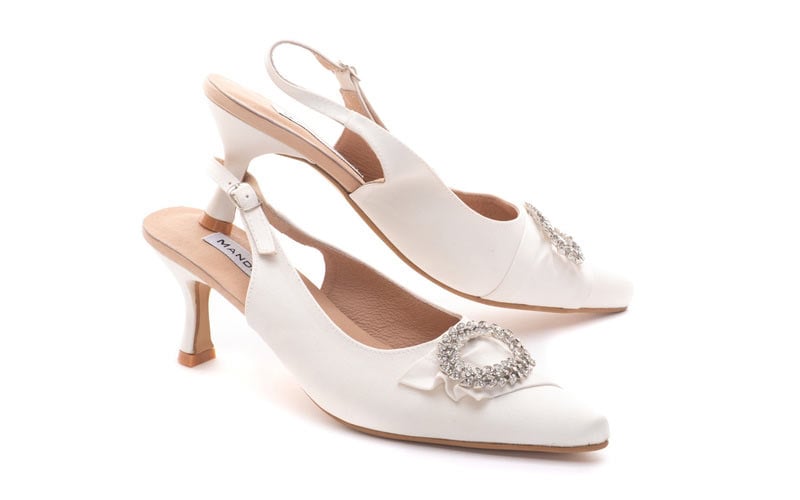 PEARL & SATIN WEDDING SLINGBACKS
A gorgeous bridal shoe in one Mandarina's most popular styles. A 7cm kitten heel, elegant tapered toe and adjustable slingback in delicate off-white duchesse satin with a soft leather lining. These comfy wedding shoes are trimmed with ruched satin and exquisite fresh-water pearls.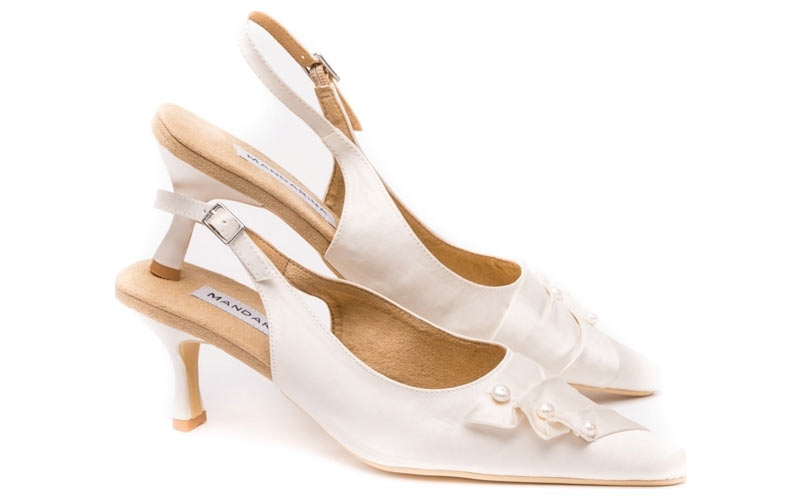 Something a little different, our silk circle pattern shoes offer a feminine, elegant and unique design in lovely brown and blue colours which work well for a wedding in any season. With a 4cm kitten heel, this style is well known for being one of our best sellers as they are comfortable and pretty. The perfect wedding shoe, that you'll also be able to wear again and again. Brown silk shoes don't come any more gorgeous than these.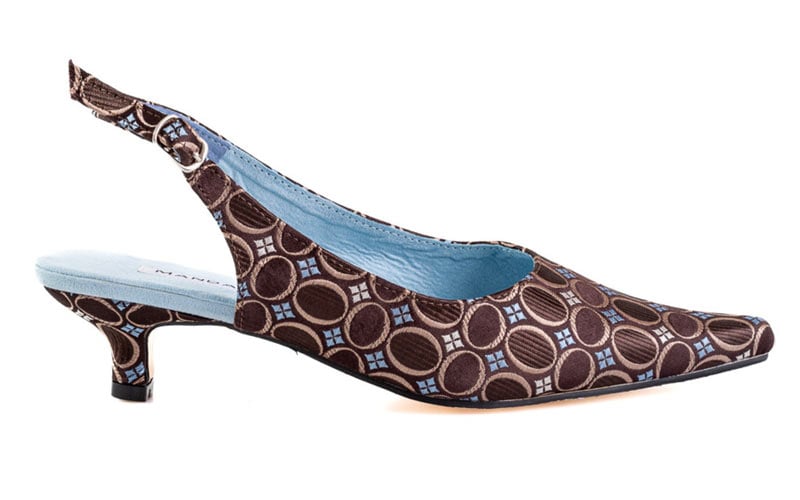 If you are looking for something that will make a statement these pink silk wedding shoes could be the ones for you. With a kitten heel and a sling back, these stunning paisley patterned brocade shoes really have all the wow factor. Perfect for a bride, bridesmaid or a wedding guest these shoes are crafted from high-grade materials and won't let you down. A pair of Mandarina wedding shoes promise comfort and style, all night long.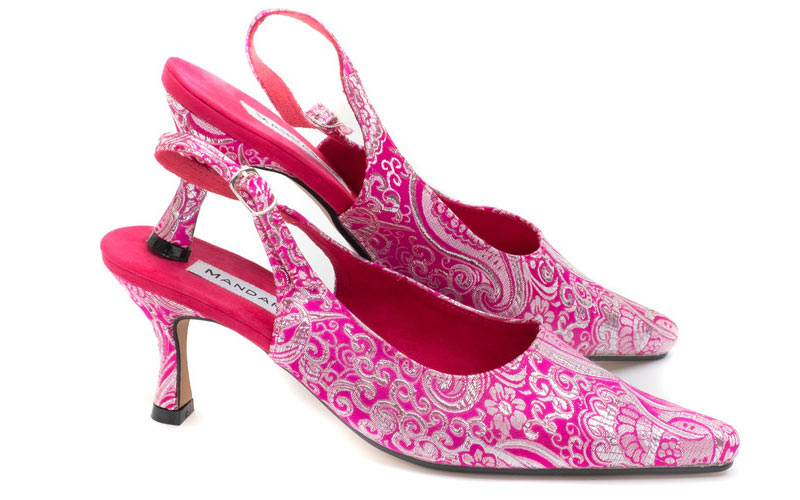 Caring for your silk wedding shoes
If you plan to wear your silk wedding shoes again, taking care of them is key to ensuring that they last for many other special occasions. To extend their life and keep them looking like new, here are some essential tips:
Clean gently after each wear. Use a soft cloth or brush to clean away dirt particles from the exterior and any trapped hair strands in the material.
Avoid applying excessive water or cleaning products to the fabric, as this can damage the silk material and strip away its natural sheen over time.
Store them in a cool and dry place when not in use with adequate air circulation to prevent moisture build up on the fabric surface.
Stuff them with tissue paper before storing to maintain their shape until next use
You can see our full luxury wedding shoe collection here, and as always if you have any questions about size or styles, please don't hesitate to get in touch.
Back to Blog