Ballet Pumps for 2023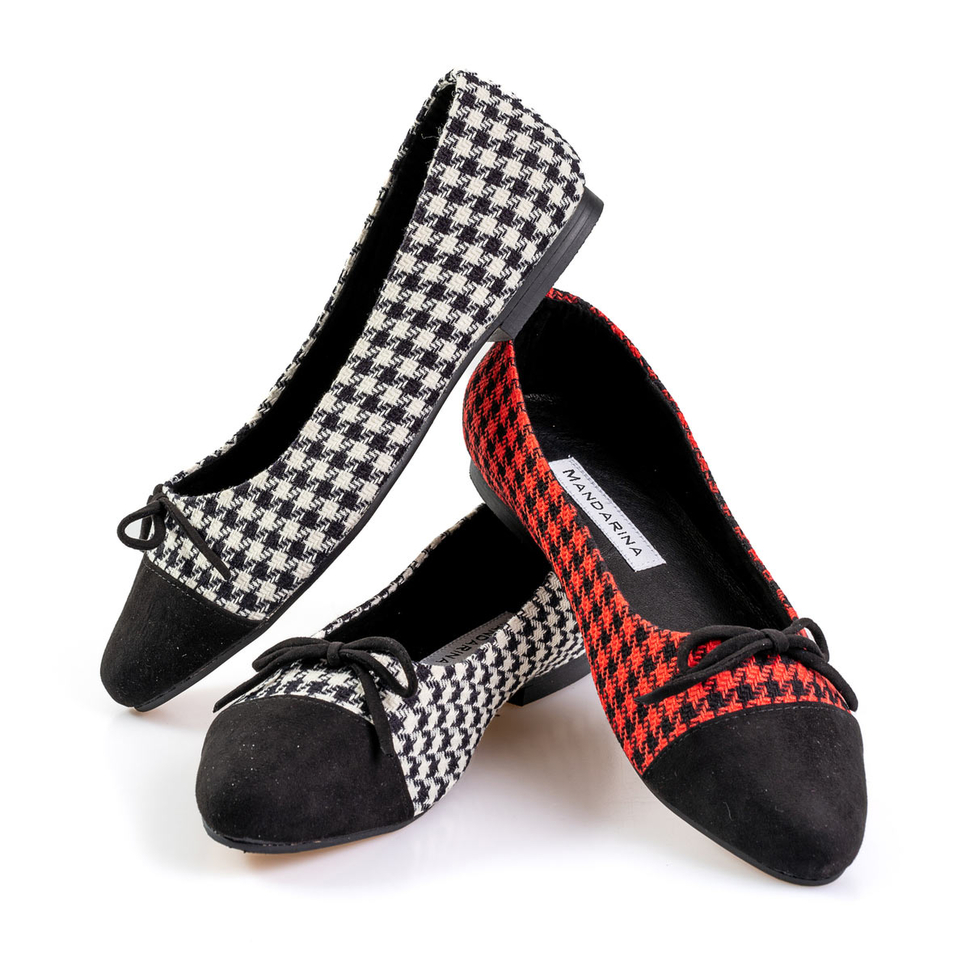 Fashion trends come and go, but who doesn't love a revival? As one of the favourite footwear trends of the Noughties, the ballet pump might fondly take you back to Kate Moss or Sienna Miller wearing their trusty leather flats with spray-on skinny jeans or floaty boho skirts... and what's not to love? The ballet pump is a fashion classic, a timeless footwear staple that should never fall out of style. Even though we're another 20 years on, we firmly believe the ballet pump is a solid piece of footwear every woman should have in her shoe wardrobe.
The origin of the ballet pump
Ballet pumps, which are also known as ballet slippers, originated in France in the 16th century. They are flat, canvas, suede or leather shoes that were traditionally worn by ballet dancers as a form of footwear. The style has since become popular among women and girls who want a light, slip-on shoe for casual wear. The original ballet pumps had a slightly different design than today's versions; they were made of leather and had a slightly thicker sole. Today, ballet pumps are typically made of suede, canvas or leather and have a much thinner sole. We have been selling ballet pumps here at Mandarina Shoes since we started nearly 20 years ago. Over the years, we have updated our styles and always aim to keep up with changing fashions, whether it be changing from a round to a more pointed toe or a square toe, or updating colours, fabrics, or trims.
Ballet pumps for every outfit
Mandarina Shoes ballet pumps are a great way to add a touch of elegance to any outfit. For 2023, look out for classic traditional styles with a modern twist. Our gingham pumps are back with a sweet touch - the signature Mandarina bow. The bright colours, choices of fabric and comfortable ,chic fashion ballet pumps for 2023, be sure to check out all the latest in our ballet flats and pumps category.
Mandarina Shoes Ballet pumps and flats can be dressed up or down, depending on the occasion. For a casual look, try pairing them with jeans and a t-shirt. For a dressier look, try wearing them with a dress or skirt. A bit like our sneakers… anything goes!

Ballet pumps and flats are a great option for 2023 as they are both stylish, versatile and are a great way to use many items in your your wardrobe! This season our Ballet pumps and flats come in a variety of colours, textiles and styles, making them easy to pair with almost any outfit.

A few ballet pump styling ideas to get you started:
Try pairing them with a flowy maxi dress for a boho chic look.
Style them with a pair of skinny jeans and a simple t-shirt for an effortless casual look.
Wear them with a skirt and blouse combo for a classic yet stylish look.
Dress them up with a ruffle top and wide-leg trousers for a modern, feminine look.
No matter how you style them, ballet flats are sure to be a staple for the upcoming season. Have fun experimenting with different looks and enjoy the versatility of this footwear option you're sure to look chic and very Mandarina Shoes!
Top picks from our 2023 ballet pump collection
Coco Flat Ballet Pumps
Oooh la la, the Coco flat ballet pumps are très chic. High-quality, designer ballet flats with dogtooth tweed and a black microsuede toe. No ordinary shoe for no ordinary lady, unique and utterly Mandarina. Available in red and black, high-quality tweed.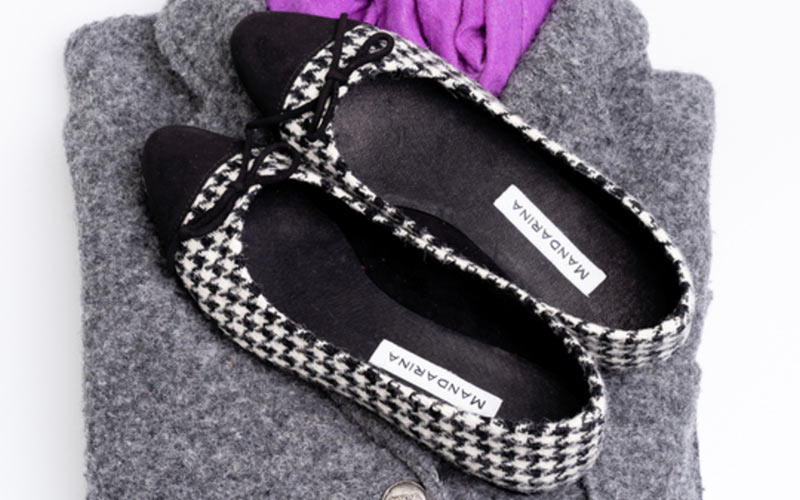 Green Aztec Pumps
The extra special fabric was hand sourced by our brand director Caroline in South America, it was then combined with a sculpted shape upper and soft microsuede lining to create these aztec ballet pumps that are truly unique and luxurious.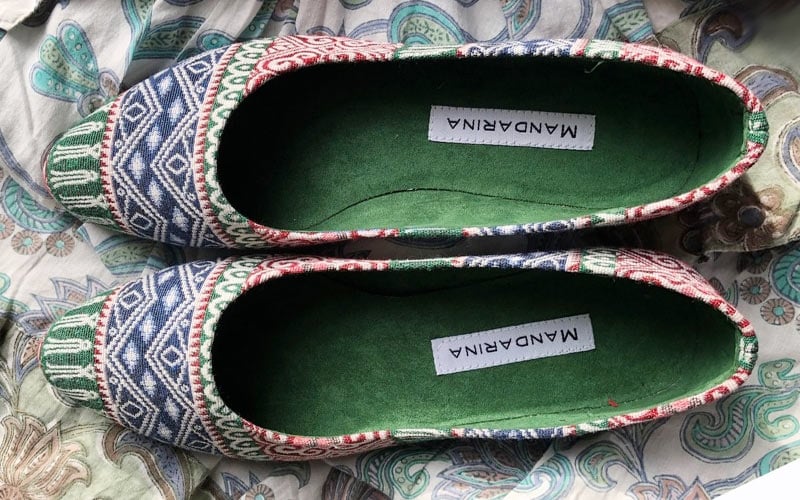 Leopard Loafers!
Fun, sexy and smart. These Leopard loafer ballet style flats are seriously strokable and really something special. Made exclusively for Mandarina in Italy, these loafers are soft, textured and beautiful.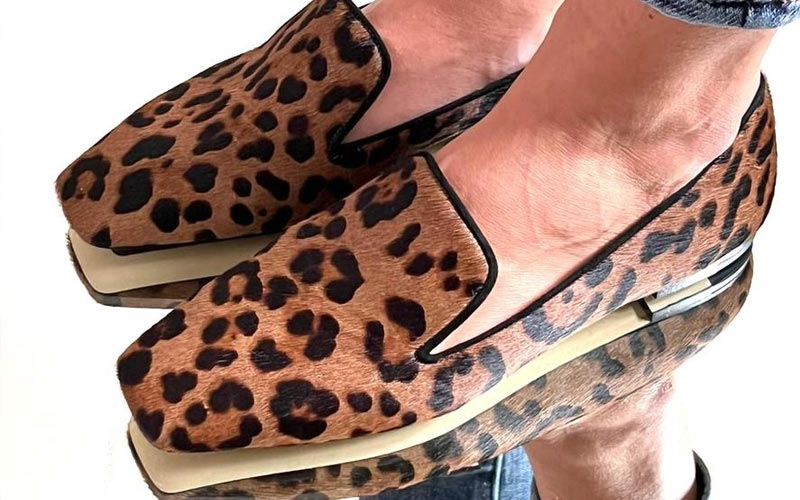 Fluoro Flats
You can't be more on trend with these hot pink Fluoro Flats as 'Hot Magenta Pink' has just been voted Pantone 2023 Colour of the Year. With a sateen textile upper, a soft leather lining and leather soles, these are luxury flats that will make you look and feel amazing.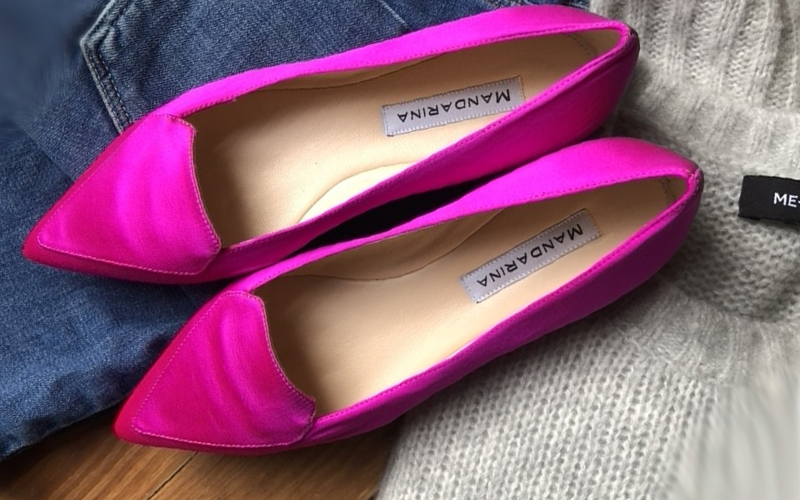 Emerald green ballet pumps
With a square toe, a big bold button trim, these are feminine and pretty flat pumps in sumptuous emerald green suede.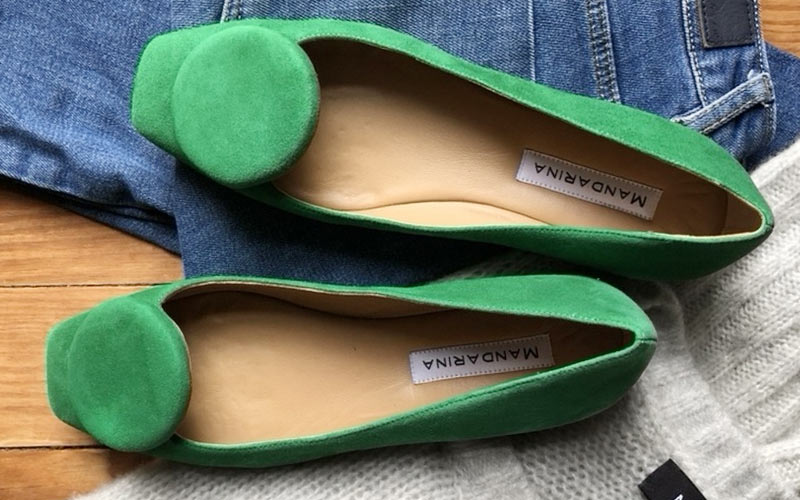 Just like all the footwear here at Mandarina, all these ballet pumps are comfortable, understated and super-chic. It's the Mandarina way. Take a look at our full collection of ballet pumps for 2023 here, and if you want any advice on the style or fit that would work for you then please don't hesitate to get in touch.
Back to Blog